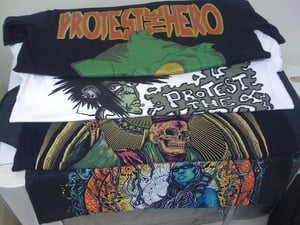 $

25.00 - On Sale
Your 4 protest the hero t-shirts will be a mystery until they arrive at your door. All you do is pick your size and we will select you 4 random pth shirts from various tours, online, and out of print designs. Some are ancient and will never be printed again.
Since we will be shipping these ourselves, we swear to not include any damaged shirts, or ones that tim has soiled while tripping out in a mall washroom...
Every order comes with one random poster (see picture) and a few lucky buggers will even get a touque too!
Now, let the riddler dress you...
* pictures below are just samples of four random shirts. Could be any combination of what you see below and a bunch of other designs and colours.